Hybrid stringing is a method of using different tennis strings for the main and for the cross strings on a tennis racket. This means that strings of different thickness or different material are used. The grandfather of the hybrid stringing method is considered to be Roger Federer who started using it a decade ago and made it popular. There are two types of hybrid stringing – the classical method and the reverse hybrid method.
Understanding tennis string types
Today many players use the hybrid stringing method, where durable strings (such as polyester or Kevlar) are mixed with feel-oriented strings (gut). This originally began as a way to increase durability of strings, but today is used by players to combine the characteristics of different strings for more controlled spin, power and feel. The right combination of strings can positively influence the racket and bring forward the advantages of each string.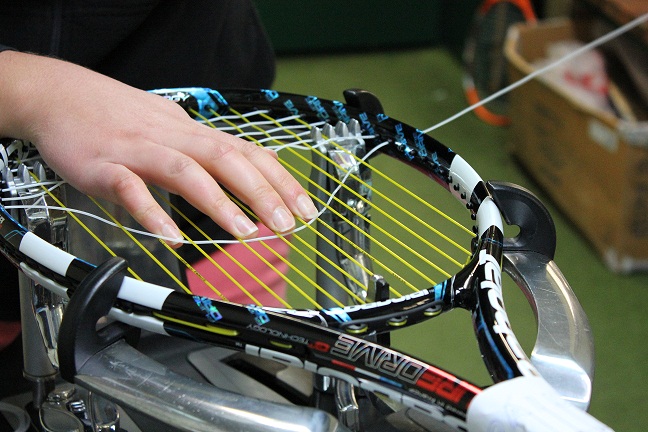 Just for a quick orientational reminder – polyester strings (hard) are preferred strings for aggressive baseliners who use a lot of spin and are looking for durability. Stiff strings allow you to swing through the ball and put a lot of spin on it. Natural gut strings allow you to control the ball better and give you more feeling. There are also other types of strings (synthetic gut, multifilament polyester etc.), but for the clarity of this article let's use the durable polyester and natural gut as the two opposites. It is also good to know that the primary strings in your racket are the mains, which are strings you get the most playing characteristics from (this is why they always move when you play J).
Classical hybrid stringing
In a classical hybrid stringing method, polyester strings are used as mains, where focus lies on more spin. Natural gut as crosses provide for an extra feeling that would not be achieved in case polyester strings were used also for crosses.
The hybrid stringing became lately so popular that different manufacturers sell string packs with already selected combinations of fitting strings. But if you look for a multi-brand combination of strings for even better mix try the following:
Solinco Barb wire (mains) + Babolat RPM Blast (crosses)
Babolat pro Hurricane (mains) + Babolat VS Touch (crosses)
Luxilon Big Banger Alu Power Rough + Babolat VS Touch or Wilson Natural Gut (crosses)
Be aware that when you use different types of strings for the classical hybrid stringing method, cross strings should be of the same gauge or thicker. If you use the same kind of strings while aiming for higher durability use thicker strings as mains.
Reverse hybrid stringing
Reverse hybrid stringing method is the preferred stringing method of Roger Federer. Here, more durable strings (spin oriented polyester) are used as crosses and more playable strings (feel oriented gut) as mains. As a result, focus is laid on better feeling from the gut strings used as mains, while spin is increased through the polyester strings used as crosses. This method can get expensive as the mains are prone to break more often.
Nice combinations of strings for reverse hybrid are:
Babolat VS Touch (mains) + Luxilon Big Banger Alu Power Rough (Roger Federer combo)
Use the same gauge on both mains and crosses.
Conclusion
Just like there is not the best tennis racket (because they are all different and everybody likes something else), there is also no best method for stringing. Try different strings (based on your budget, your ability and style) and try to find out which suits you the best. If you have any other questions or remarks to this article feel free to contact us. Enjoy your new strings and see you on Fuerteventura.
---